In order to reduce damage, we will improve our ability by providing trial and error and execution means for disaster response.
Assuming a non-existent disaster yourself, create a list of disaster event occurrences. The situation progresses according to the event list. The network simulates cooperation in group units. The function of simulating disaster coping behavior is realized by a network system of disaster map training (Disaster Imagination Game). It is an effective educational means especially as a means of responding to unknown disasters.
Resilience (flexible strength, ability to recover) leap
Think about the dangers that exist in the workplace, imagine them,
and record them on your body through virtual training.
RiMM virtual disaster response training system configuration
(1) Event occurrence generator for disaster training

A disaster event is generated according to a list that defines the disaster content and occurrence time.
Edit the disaster occurrence list with Excel etc. on your PC, import the list and execute it.

(2) Message tag distribution system for training on the figure

Disaster Imagination Game DIG method is digitized Tag distribution system via network
Operate the operation tablet for each work group, post DIG tags, and distribute tags on the network

(3) Disaster site status AR monitor (option: mutual distribution of real-time camera images)

A display system that identifies the site according to latitude / longitude information and displays and reproduces the disaster situation at the site in AR. The disaster situation is displayed in the AR function according to the instructions of the event occurrence generator for disaster training.
MR can be displayed on a tablet or AFR / MR glasses.

(4) Hazard map display monitoring system (equipped with hazard mapping function)

System that displays disaster status in real time on a map Function to display disaster status with icons, flag display of recorded contents, area color-coded display, path color display
Automatic creation of hazard map using mobile terminal, editing of hazard map, browser It can be viewed.
System configuration
Product features
The user can assume a disaster event, program the event occurrence order, and execute it virtually.
No software programming knowledge is required.
The time of occurrence and the content of the disaster are defined in words using Excel.
You can also link photos and video images that match the image and play them automatically.
You can select and distribute tags by entering them in the same way as writing them on sticky notes, sending them in groups, or sending them individually.
You can operate the time axis with a timer dedicated to simulation. (Freely change the degree of event progress) During
training, the event progresses and you can train while virtually simulating a disaster.
Tag distribution communication is recorded as a communication log, and the communication history can be displayed or printed out.
Trainees operate on PCs and tablets via network connection.
You can check the virtual disaster situation at the site by using AR / MR glasses.
The hazard map display function allows you to display a bird's-eye view of the disaster situation on the map.
With the hazard map function, you can check the current damage situation and give instructions on the map of the guidance route.
By installing optional functions, it can be used even in a real disaster.
With the interactive video streaming function, you can use the video from the on-site camera and mobile camera in real time.
You can build a system in various forms using a local intranet or internet line.
You can flexibly upgrade the system by selecting 5 function modules.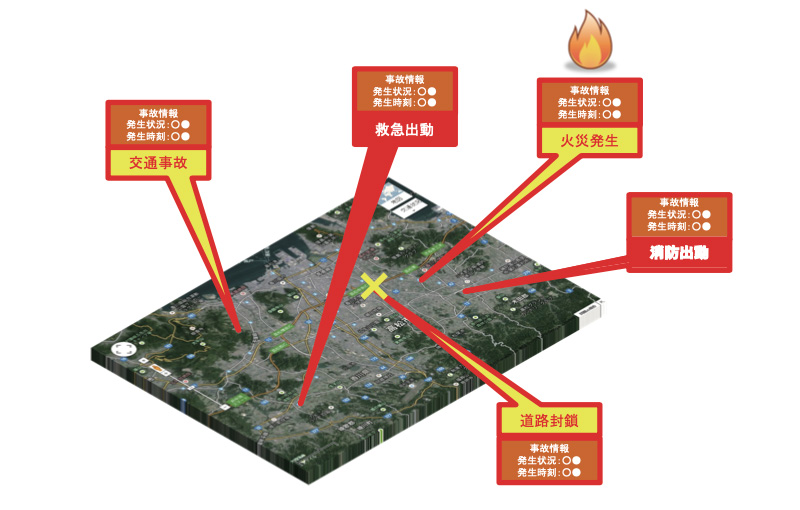 ステータス
経路編集&表示
被害マップ
Demonstration demonstration support is available at 4 bases
[Tokyo: Kanda, Osaka: Awaza, Nagoya: Marunouchi, Ho Chi Minh]
Online demo has started!
Inquiries about products / Catalog request
Information equipment department TEL: 03-5209-0080