In order to face and respond to disasters, we will share images of disaster information with low delay.
To share a disaster image, you need a network server system that can deliver smoothly without delay regardless of the terminal. RiMM takes advantage of the features of Inter Stream Server to develop solutions using a network-type system specialized for image transmission. Disaster database system, real-time confirmation by IP camera, image tagging, user-friendly CMS construction, multi-device support, system construction using the Web are possible. RiMM software that runs on Inter Stream has been released for added security.
Supports resilience (flexible strength, ability to recover)!
[RiMM INTER-STREAM Server Product Features]
Features
It is a cloud-type video interactive distribution server.
Real-time streaming playback of images is possible.
Various terminals can be used (via browser: PC, tablet, smartphone).
You can connect to an IP camera and relay video in real time.
It supports high resolution 4K cameras and 360 degree stereo VR cameras.
The management function is installed as standard on the server, and the image tagging function can be installed.
Main functions
Content management system
Multi-device universal interface
Content Management (category, channel, advertisement, schedule playback)
System management functions (access log / statistics, video conversion, scheduler), etc.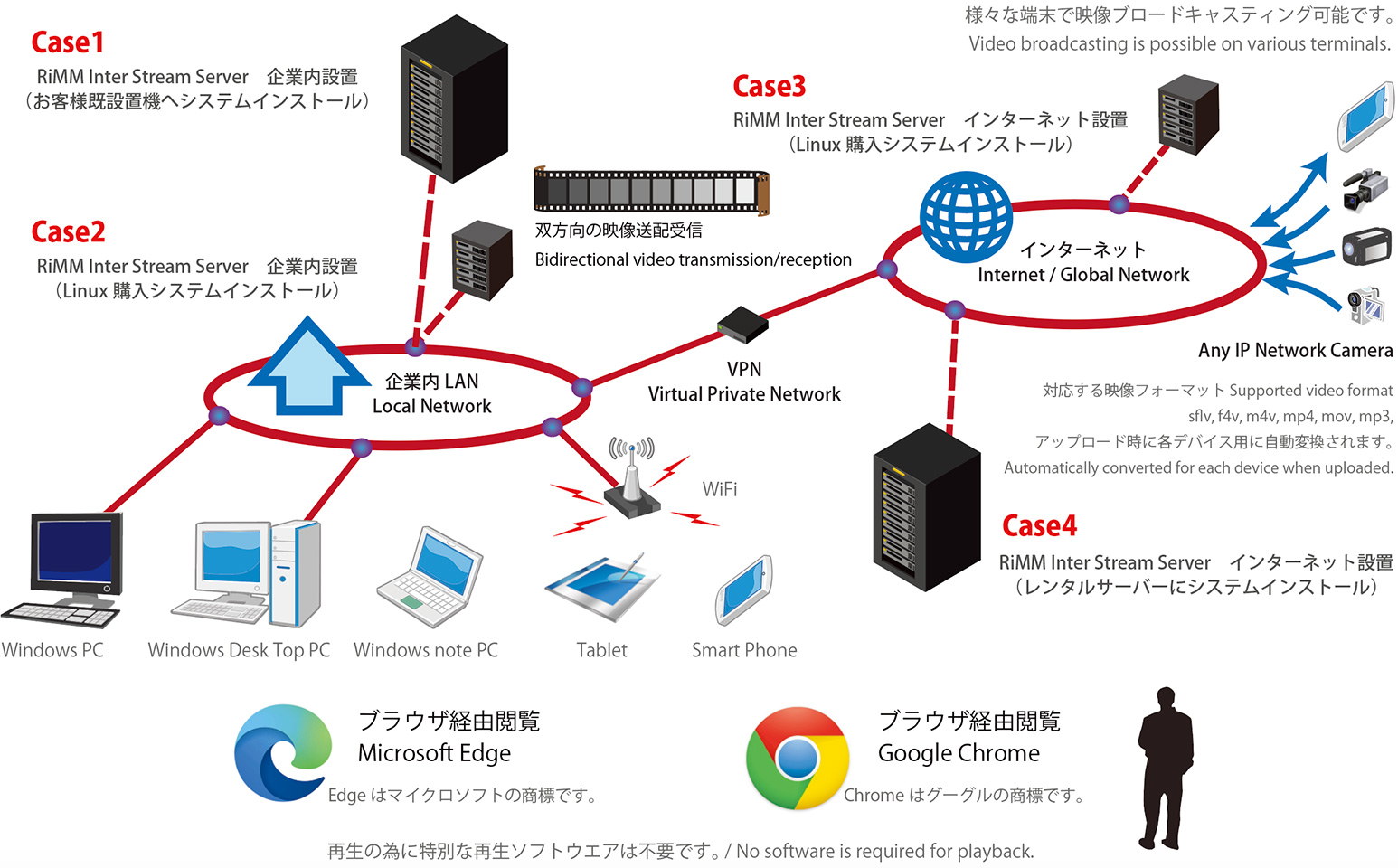 [RiMM Inter Stream Sever installation method]
Select from 4 types of installation methods for RiMM Inter Stream Server.
Installation on the intranet
Case1 Installation in the  company (system installation on the customer's existing machine)
Case2 Installation in the  company (purchase a Linux PC and install the system)
Interface – installation in the net
Case3 Internet installation (LinuxPC purchasing system installation)
Case4 Internet installed (system installed on a rental server)
Servers whose operation has been verified Amazon AWS, Microsoft Azure, Sakura Cloud, VM ware, Vitual Box, etc.


The product service names described on this page are registered trademarks of each service company.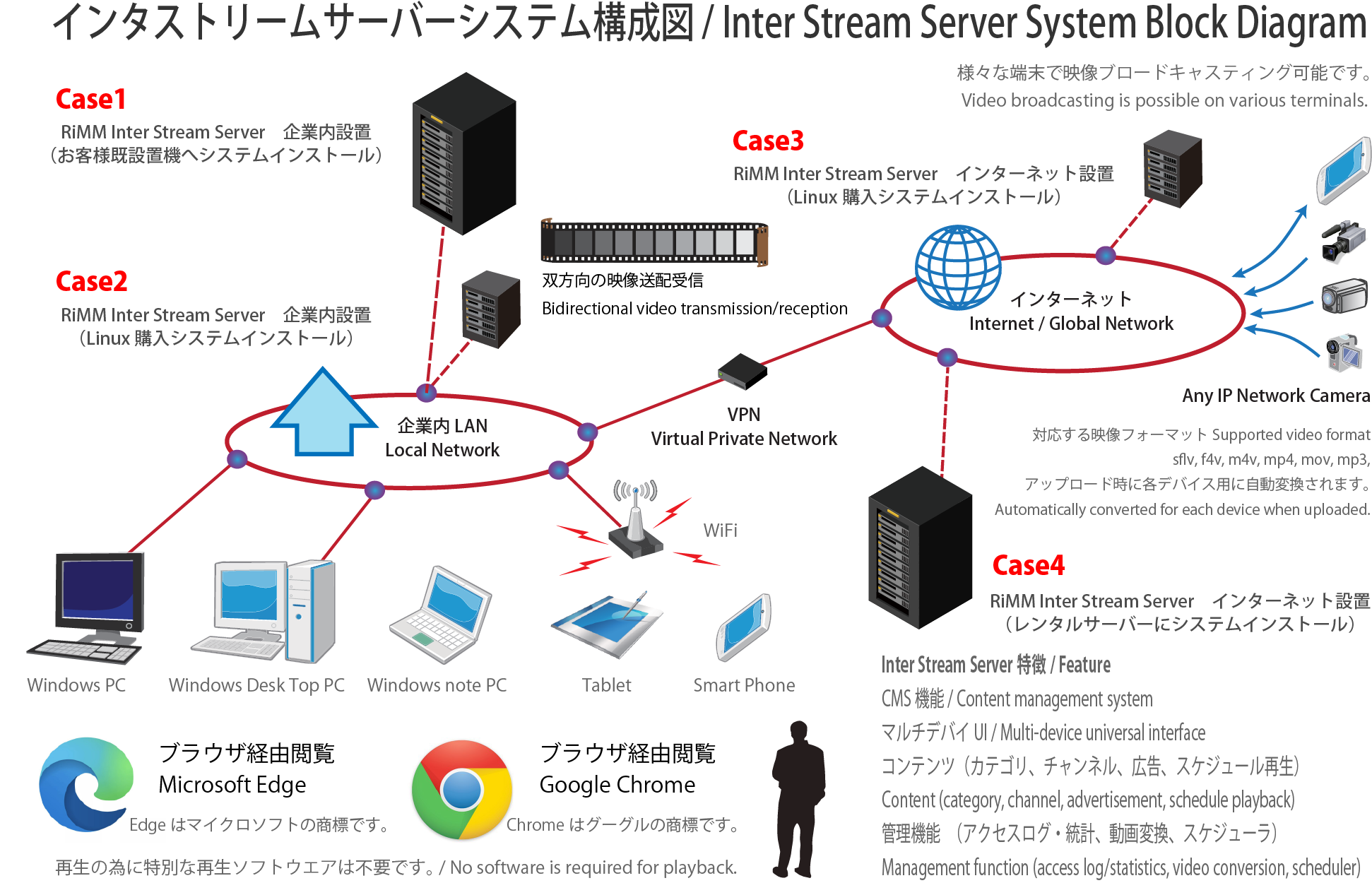 [RiMM Inter Stream Sever compatible software]
KY disaster reproduction video
Disaster occurrence generator
DIG message tag delivery
Disaster status AR monitor
Hazard map system
Please contact us for details.
[RiMM Inter Stream Sever operating environment conditions]
System requirements Specifications
Functions as a Web server
DB such as MySQL and PHP can run
Core i5 or higher CPU installed
8GB or more memory installed
SSD or HDD 500GB or more installed
Communication data capacity
On-demand distribution, stream start at access
Full HD approx. 5 to 10 Mbps ⇒ 1 stream LAN occupied
Simultaneous access number
Example: 10 people simultaneous access ⇒ Bandwidth consumption of 50 Mbps to 100 Mbps
Please contact us for details.
Demonstration demonstration support is available at
[Tokyo: Kanda, Osaka: Awaza, Nagoya: Marunouchi, Shimane : Matsue, Vietnam : Ho Chi Minh, Thailand (Bangkok), Singapore = 7 bases in total]
Online demo has started!
Inquiries about products / Catalog request
Information equipment department TEL: 03-5209-0080