We analyze risk factors in the workplace and provide a means to prevent or make people aware of disasters.
Take a picture (photo, video) of the actual work environment with a 360-degree VR camera all around. The image of the workplace is directly imported into VR (virtual reality), and the workplace is reproduced in the virtual space. Use your senses (visual + auditory) to search for risk factors that cause disasters. Software that trains safely and effectively. It specifically discovers the dangers that exist in the workplace, stimulates the essential intuition of human beings, and raises awareness of danger. Ideal for disaster prevention response education.
Safety education method using VR (3-step education recommended)
You can intuitively feel "heart" by "seeing and listening"
by concretely showing the dangers that exist in the workplace.
Awareness Education How to use VR
Install it on the site with a 360VR camera + tripod and shoot (photo or video).
Copy the data to your PC with a USB cable or SD card.
Convert to a panoramic image for 3D with dedicated software (several touches).
Copy the panoramic image to the RiMM mobile kit.
Start the RiMM playback start player.
Press the icon of the 360VR experience scenario of the disaster scenario to start it.
Select the site you want to see from the folder where the panoramic image is recorded.
Experience the scene with VR goggles.
Pointing mark the risk factor point on the VR controller.
Record the experience data and receive guidance from the instructor in the after-review.
Step1 Field 360 degree record
Step2 Clipping & automatic panorama conversion
Step3 Import to VR space + experience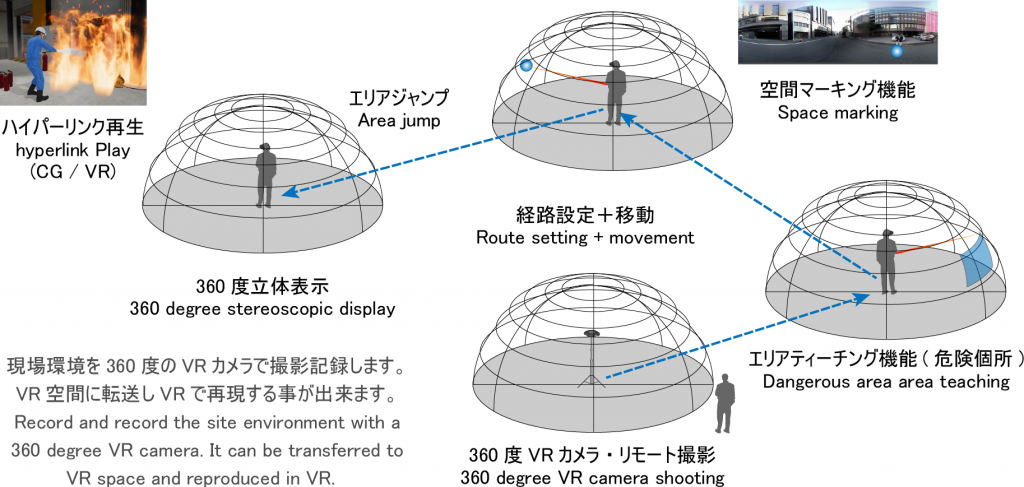 360VR拡張機能概要
◎ Usage
Record your site and point out dangerous points
Record and save before and after site renovation
Take a picture of the site and extract dangerous parts in a remote location
Record work status from multiple perspectives and check and examine work
Record the accident with VR video footage, breaking news
Special note)
The following products are required for playback.
-RiMM mobile playback kit
-VR field recording risk assessment scenario or advance
-RiMM 360 degree VR camera (hardware)
-Real-time network distribution requires RiMM InterStream Server.
Demonstration demonstration support is available at
[Tokyo: Kanda, Osaka: Awaza, Nagoya: Marunouchi, Shimane : Matsue, Vietnam : Ho Chi Minh, Thailand (Bangkok), Singapore = 7 bases in total]
Online demo has started!
Inquiries about products / Catalog request
Information equipment department TEL: 03-5209-0080