Aiming to eradicate disasters, we will raise awareness of danger through efficient disaster case studies.
You can guide your eyes with your own deformed expression, give a strong impression with your image, and memorize risk factors in your "head" for highly effective education. We provide reproduction images of natural disasters, traffic disasters, general disasters, occupational accidents, and man-made disasters. Occupational accidents provide standard products as well as custom products. Create 3 seconds, 30 seconds, 3 minutes, and 10 minutes of video according to the operation. No narration or telop required, even if you don't understand the language.
Safety education method (3-step education: disaster case study)
Show concretely the dangers that exist in the workplace and let them "see and feel" intuitively.
Efficiently communicate the situation of the accident in a short time and let them think about how to deal with and act on the spot.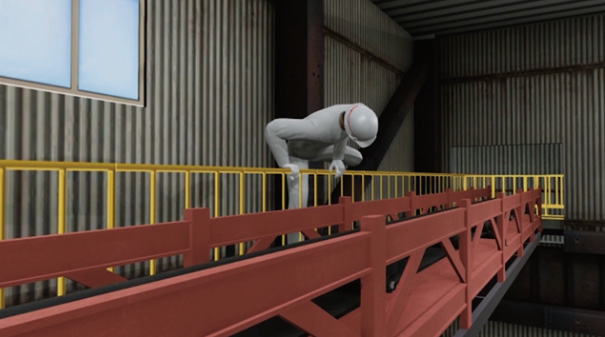 【SVD-001】ベルトコンベア点検し
不具合を見つけ修理中に墜落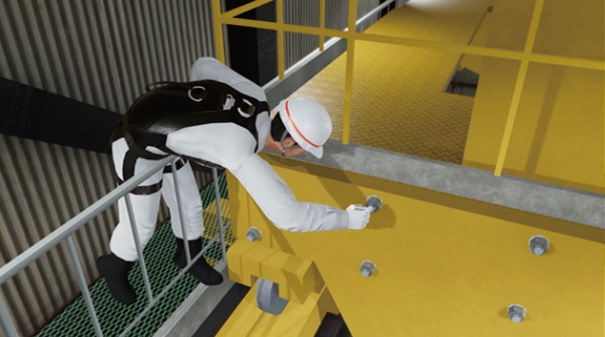 【SVD-002】クレーンの検収後
⼿直し作業中、歩廊から作業者が墜落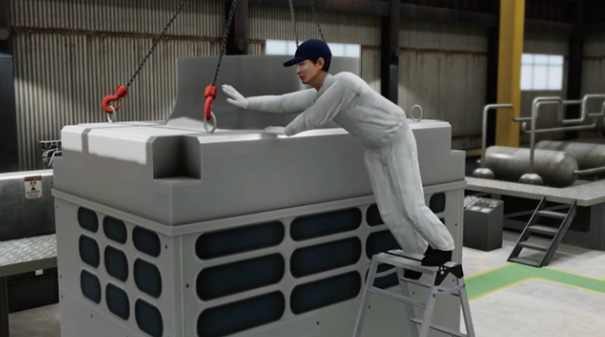 【SVD-003】クレーンを⽤い完成検査中、
⽟掛け作業者が脚⽴上から転落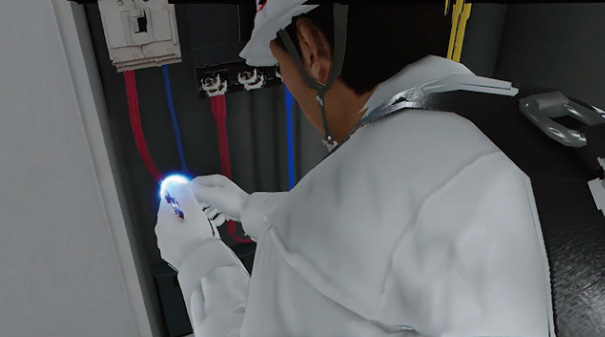 [SVD-004] Electric shock during inspection of overhead crane at the factory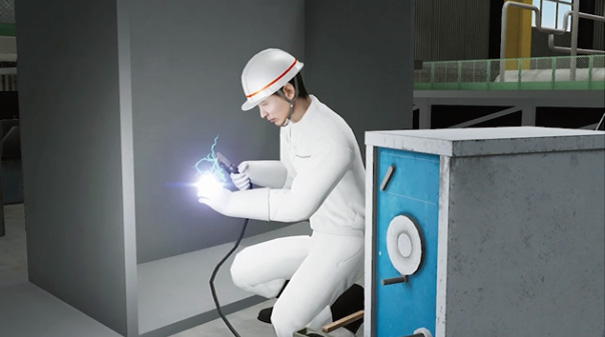 [SVD-005] Electric shock while using AC arc welder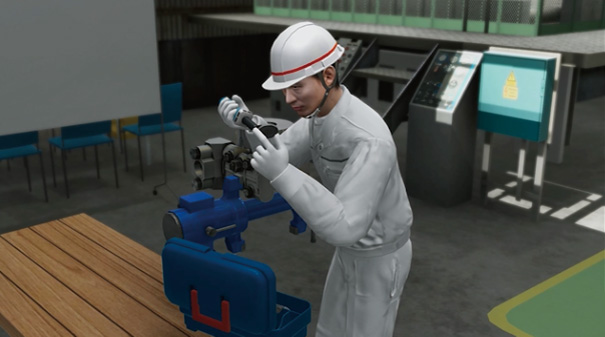 [SVD-006] A non-standard abrasive is attached and split into four, flying to the victims.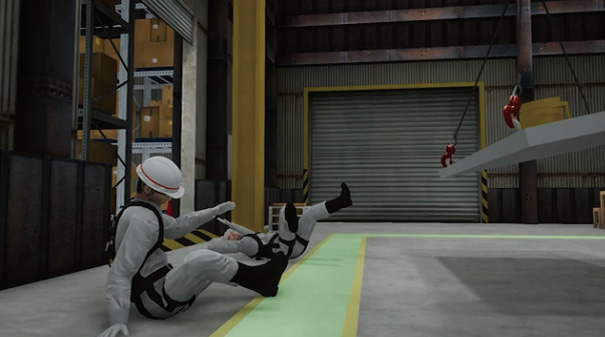 [SVD-007] The wire rope for auxiliary winding was cut and damaged.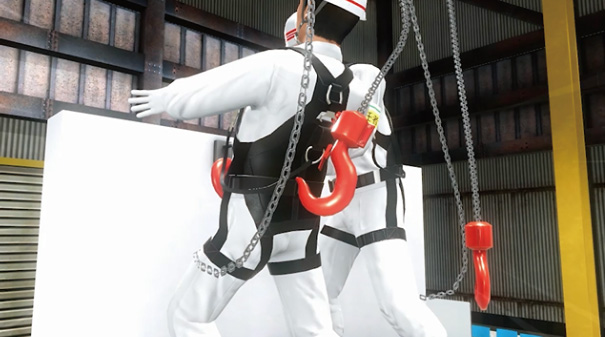 [SVD-008] The hook of the hooking tool that came off and bounced during the hooking work collided with the worker.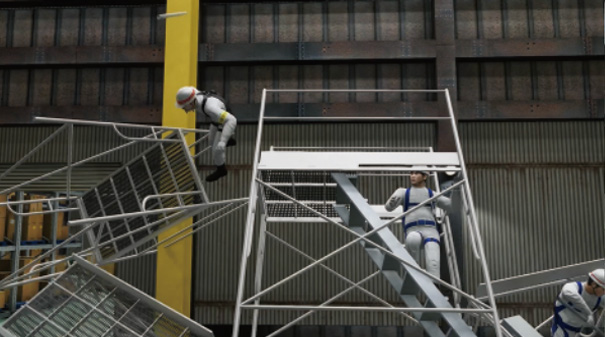 [SVD-009] The field collapsed during the dismantling work and the worker fell.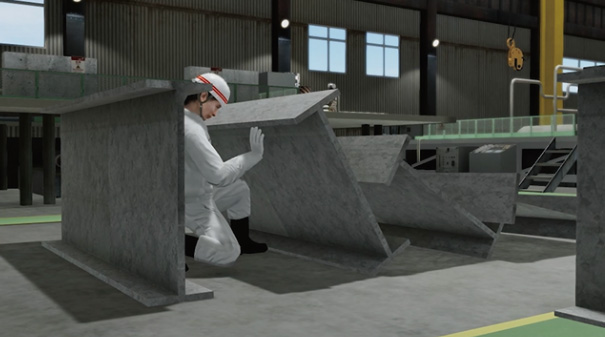 [SVD-010] During steel clamp work, the hanging tool comes off and is sandwiched between dominoes.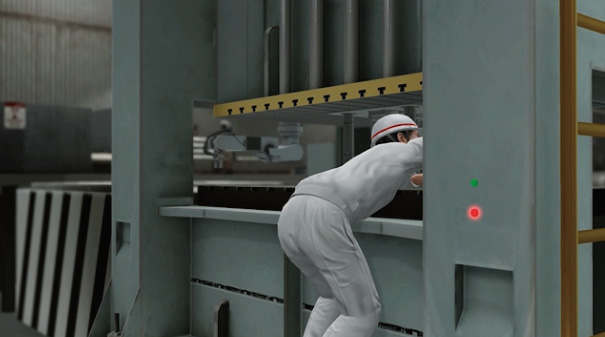 [SVD-011] Remove the obstacle of the press machine and get caught during work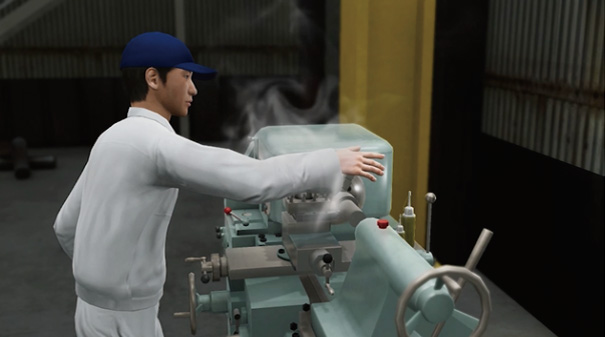 [SVD-012] Cuffs are caught in the rotating body during lathe work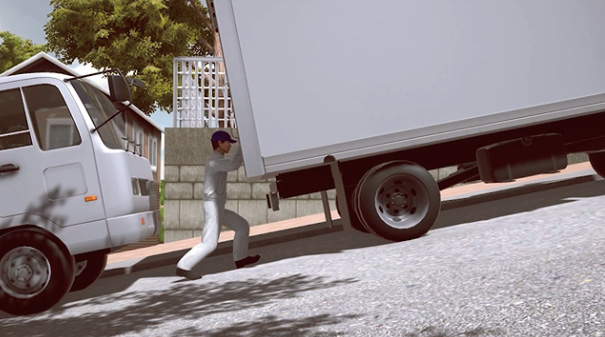 [SVD-0013] While parking on a slope, the brakes loosen and the slipped vehicle is suppressed and pinched.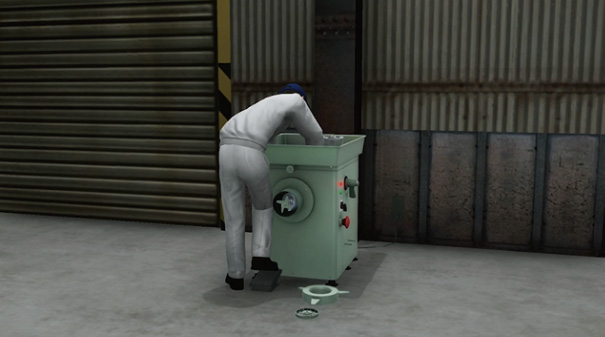 [SVD-014] Get caught in a rotating body during maintenance of a meat processing machine
[Accident reproduction CG image: Standard product]
First 14 types Accident reproduction CG standard image on sale
1:

Crash from conveyor

Crash while repairing conveyor belt

2:

Overhead crane crash

A worker crashed from the corridor during the repair work after the acceptance of the new crane.

3:

Stepladder fall

During the completion inspection using an overhead crane, a hanging worker fell from the leg and died.

4:

Overhead crane electric shock

Electric shock during inspection of overhead crane at paper mill

5:

Arc welder electric shock

Electric shock while using AC arc welder

6:

Grinder flying

When I was working with a grinder attached to a hand grinder, the grinder suddenly cracked and one came to the victim's side.

7:

Supplementary winding hook flying

While moving the cover of the electric furnace using a crane at a steel factory, the auxiliary winding wire rope was cut and damaged.

8:

Hook flying

The hook of the hook of the hook that came off and bounced during the hooking work of the crane collided with the worker.

9:

Scaffolding collapse

The factory during the dismantling work collapsed, and the workers on the factory fell.

10:

H steel sandwiched

It is sandwiched between H-shaped steel that has been knocked down.

11:

Press machine sandwiched

He was caught in the shape of a press and died

12:

lathe sandwiched

A person was caught in a rotating iron bar while cutting an iron bar on a lathe.

13:

Meat machine sandwiched

During the disassembly work of the roll body of the precision machine, a hand was input from the human input, and the hand was involved in the rotation of the roll.

14:

Truck sandwiched

I parked and got off the car and the car moved backwards, so I entered between the cars trying to stop the car, and my head was caught and I died
Disaster reproduction case study video (standard product)
Step1: 14 patterns on sale (factory, plant, food, logistics / disaster reproduction)
Step2: 11 patterns will be released soon (construction site / disaster reproduction)
Step3: 100 patterns VR disaster scenario preview video (3 seconds version)
Step4: 45 patterns Scheduled to be released within 2020 (wide range of environment / disaster reproduction)
Please contact us for details.
A total of 70 disasters are being visualized.
It is also possible to create custom products according to the many usage records and customer cases.
The KY disaster video is different from the VR disaster scenario.
KY disaster video is created with data that can be converted to VR.
Two types of distribution methods are available:
DVD media supply or RiMM Inter stream Server network distribution
We have started to provide a RiMM cloud video distribution server.
It can be purchased and installed as an in-house server, or mounted on a rental server.
RiMM Interstream Server is a server function dedicated to video transmission / reception.  
In addition to KY accident video distribution, accident information collection terminal software can be operated.
Demonstration demonstration support is available at
[Tokyo: Kanda, Osaka: Awaza, Nagoya: Marunouchi, Shimane : Matsue, Vietnam : Ho Chi Minh, Thailand (Bangkok), Singapore = 7 bases in total]
Online demo has started!
Inquiries about products / Catalog request
Information equipment department TEL: 03-5209-0080